San Pancho Community News
Community News Splash in San Pancho Mexico
Hello San Pancho, folks on the Riviera Nayarit and beyond! We hope all of you are finding yourselves well, and we thank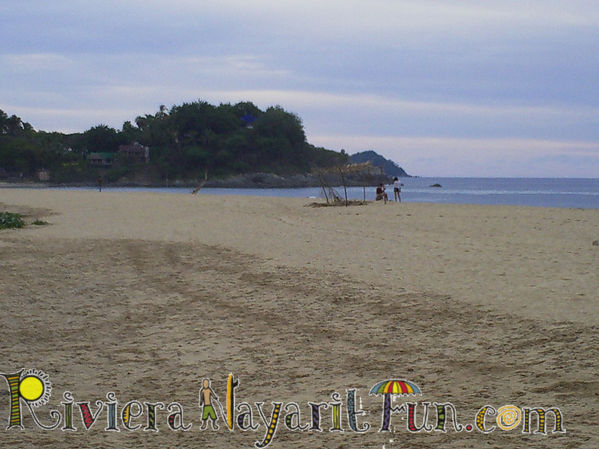 you for viewing and supporting our local website. We are getting a lot more rain this last week, as everything is flourishing, as the river is finally running to the ocean and the jungles are turning very green once again.  The rain is really helping to cool down the hot parts of the day.  One of the things I like about living on the Riviera Nayarit all year long is that the next morning after a storm it is another blue-bird day! Sunny with the Mexico Blue skies, and the amazing San Pancho sunsets.
Thanks for tuning in to allSanPancho.com, and many Blessings for your day!
We like to run our advertisers specials and information for you, written by our advertisers, so you can discover great
deals on the things you need and like. Click on the links that lead directly to their ad pages to find out more about them. All of the photos are also linked to their business photo galleries, so click on the photos as well! Everything is always linked!

allSanPancho.com would like to welcome Maxieventos Wedding Planner and Living in Joy with Kathleen Blue to the site!
Also,  Tailwind Jungle Lodge and Yoga Retreat Center are coming to the site, so look for their ad coming soon! Scroll down to view more great articles from Tamara about Yoga, nutrition, health and healing.
With the RivieraNayaritFun Regional Network everything is linked! Making it easy for folks in Chacala, for example, to find your business! We also have free listings under our paid advertising sections. Check them out for more information on the things you need. Every business and rental gets a free for life listing with RivieraNayaritFun!

New San Pancho Community Advertisers

Maxieventos Doris is a company founded in January 2007 in La Penita de Jaltemba Nayarit. Doris is a serious, honest and responsible wedding planner, business woman, mother and wife. She is devoted to her clients,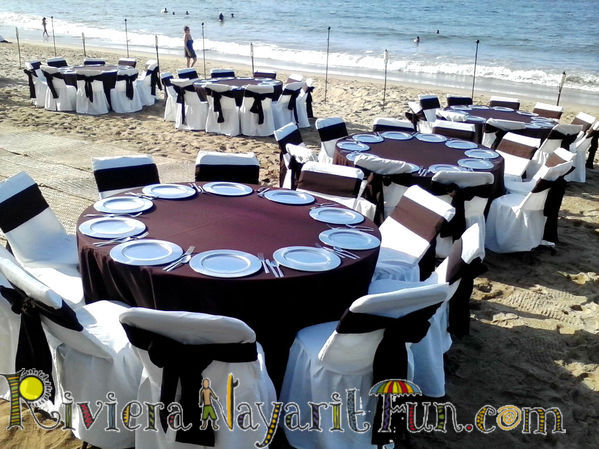 with a superior eye for detail, organization and all over event coordinating and organization. She understands how special your event is to you!
"We rent out furniture to hundreds of customers each year. For us to improve every day is not a necessity but perhaps a virtue. We feel we reflect our path of events that we have organized around the Riviera Nayarit area, creating a total and complete satisfaction for our customers. "
She is bilingual in English and Spanish, Spanish being her native language. Because Doris has a local Mexican business and has lived on the Riviera Nayarit for many years, as well as raising her own family here, she knows all of the people, and connections to keep her pricing reasonable, and can find and create anything your dreams desire,  making your event setup graceful and beautiful.
The Bars of Access Consciousness is an energetic healing tool to facilitate change in all areas of your life.
There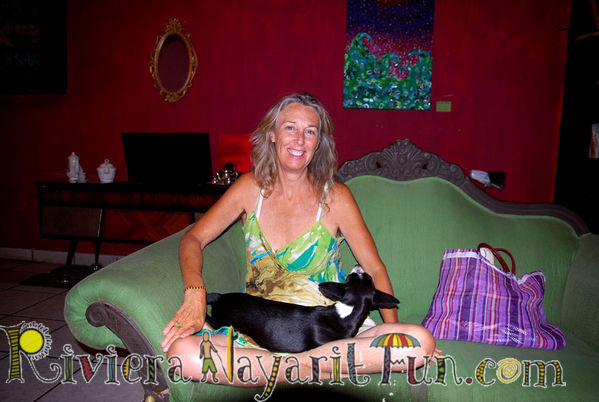 are 32 points on the head which contain and store all thoughts, ideas, beliefs,considerations,trauma and dramas, and are stored away, connected to emotions.
When I accompany the Bars with Clearing Statements, we are able to pin-point the problem and blast it out of existence! The Clearing Statements by-pass your logical mind so it is not necessary to understand what I,m saying.
Once your emotional triggers are released, you will have more awareness and more ability to function with joy, ease and grace every day.
Write to me with any questions you may have. I am here to help! I reside in San Pancho all year, and our new San Pancho office is opening soon. We welcome you!
Many Blessings of Joy,
Kathleen Blue
Greg Close, the owner of the Blue Pig BBQ and Blues creates a unique BBQ Sauce from a family recipe that gets your tastes buds tingling with a rich smokey flavor that keeps you coming back for more!
With a choices like BBQ Ribs, Half Chicken plates, or if you have a big appetite, The Big Pig, or try the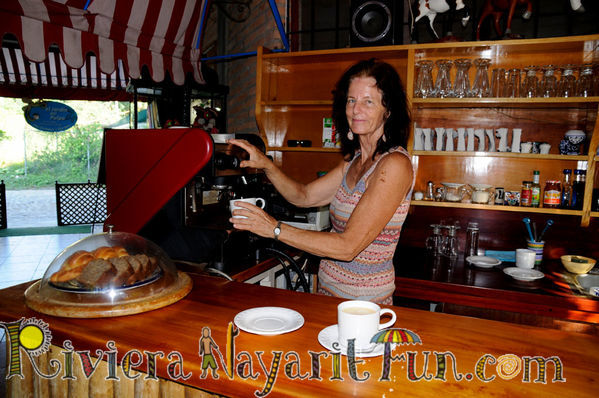 Delilah's Delight which is enough for 3-4 people! Also serving a variety of sandwiches and Burgers…like the famous RazorBack Burger, which is a 1/2 pounder with cheddar and blue cheese and bacon ( oh so very delicious! ) and two sides of your choice, like carrot or potato salad or try a San Pancho Dip!
A full bar is available as well as fresh brewed coffee and teas. The Blue Pig and Blues is perfect for birthday parties and other celebrations as well as catering any event! Live music is played under a large palapa in the main dining room.
They are closed for the summer season, but reopen in October.
See you then!

If you would like to join our RivieraNayaritFun community websites we would love to help promote your business. We have hundreds of viewers every day, Come and join our community with the Largest Regional Network on the Riviera Nayarit. We are RivieraNayaitFun.com and our 7 town websites, like allSanpancho.com, allSauultia.com or allBucerias.com., all linked, with high traffic. (eventually 12 websites! ) and of course on the first page of Google!
We are very different because we post, linking to your advertising weekly, on the allSanPancho website, and the mother site RivieraNayaritFun (click on the link to see the article…search for bucerias restaurants to see it on the first page of Google!) maximizing your business potential, linking and sharing the "Google Love" with YOUR BUSINESS! And, of course we are on the fist page of Google for keywords like San Pancho Restaurants and  many more keywords.
If you do not get found with us, your next year is completely FREE!
Email me for amazing summer specials. We can keep our pricing very low, as we have 7 town websites!
If you cannot advertise with us right now, ask about our payment plans that make life a little easier, and we are also open to some trading for services!

We also offer all Business and Rentals a Free for Life Internet Listing. Click on the link and fill out one form.
Muy facil!
We are growing larger every day. Everyone that signs up is part of our Riviera Nayarit Fun community.
Come and join us!
Thanks for your interest, and hope to connect with you soon.

Much Love and Blessing.
Cat Morgan
Cat@RivieraNayaritFun.com
Discover a beautiful San Pancho Vacation, Move to Mexico for LIfe!
Weekly Community News
Tailwind Jungle Lodge and Jungle Girl Health
Step out of your comfort zone . . . but not too far! 
I love the quote "life begins at the end of your comfort zone" by Neale Donald Walsch.  It's so true! When you leave
your comfort zone you're opening yourself up to new challenges, learning and growth.  However, it's also true that if you step too far outside of your comfort zone you're setting yourself up for anxiety, stress and a date with all the sweet foods in your fridge.  It's definitely worth it to spend some time exploring your comfort zone and your personal limits. Read on for some ways you can explore your zones.
A healthy way to step gently out of your comfort zone.
Starts TOMORROW, July 25th  
This is your last chance! Sign up here!   
Gently step outside of your comfort zone
It's so easy to slip into a daily routine that is comfortable and safe.  But is this the best way to live your life? Can you recall the last time that you pushed yourself out of your comfort zone and did something that challenged you . . . or maybe even scared you a bit?
Stepping out of your comfort zone is often where the magic of life happens! 
Giving yourself a healthy challenge is a huge part of the nourishment equation.
But beware! If you step too far outside of your comfort zone you may find yourself in the "anxiety/stress" zone.   You don't want to spend too much time in this zone. This is a place where stress levels are high and your health is at risk.
 It's simple to divide the zones of your life into 3 parts:
 1) Your comfort zone.
2) Your learning/challenge zone.
3) Your anxiety/stress zone.
It's worth it to consider these different zones in your life.  Click here to begin exploring your zones.
Nourishment SECRETS Revealed
30 Day Nourishment Challenge Begins TOMORROW, July 25th!
Sign up here!
Make your health a priority
Remember, this 30 day nourishment challenge is going to be a treat to every cell in your body. It's time to make your health a priority.  Don't worry, it's going to be tasty and fun!
I can't wait to support you!
I'm so excited to get you started on your health adventure.
Please feel free to contact me at tamara.jacobi@yahoo.com with any questions you may have.
The Blue Pig BBQ and Blues
The Blue big is a great BBQ San Pancho restaurant that will re-open in October. Be sure to stop in for some fantastic BBQ, tasty drinks and some live blues music!
HealthCare Resources Puerto Vallarta Summer Newsletter
This newsletter is written by Pamela Thompson….Thanks Pam for keeping us so informed on the
Riviera Nayarit!
Here you will discover the clinics and the  pricing for the different clinics offered this summer.
We are combining our July and August newsletter for several reasons – the main one being that I am behind! We will do the same for September and October as well. And then, hopefully, the November newsletter will be jam-packed with loads of new "fall-winter season" items.
July-August Clinics
These screening-only clinics are offered at a discounted price available only through HealthCare Resources. They are held in various locations and can be booked by sending an email with the name(s) of the clinics, your name and phone number, and any questions you may have to Pamela(at)HealthCareResourcesPV.com.
Summer Clinics
Cardiac Clinic
July 27, 2012
$550 pesos – PLUS members $500 pesos
Includes: EKG, Blood Pressure Check, Consult/Interview with a bi-lingual cardiologist and their recommendations. (We recommend prior to the appointment, you have a Cholesterol Profile. We are offering a very discounted price for this at $322 pesos.)
Ear Clinic
July 31, 2012
$375 pesos – PLUS members $325 pesos
Includes: Complete evaluation by an ENT of your ears and a cleaning (if needed) – you'd be amazed at the "gunk" that builds up in our ears here due to the humidity. Note: This is not a hearing test! **We do have an audiologist that comes frequently to the area. If you would like an appointment with her, please let me know. She will be here again sometime in August.
Vascular Clinic
August 2, 2012
$400 pesos – PLUS members $350 pesos
Includes: Evaluation by a vascular specialist, checking your legs/pulses/carotids – see how your blood is flowing! You will receive a complete report with recommendations.
Foot Clinic
August 3, 2012
$300 pesos – PLUS members pay $250 pesos
Includes: Review of your feet/toes, pulses, balance and recommendations by a podiatrist. Our feet take a beating here! Take care of your tootsies! And if you haven't yet had a "medical pedicure" – you should! It's fabulous!
Women's Clinic
August 7, 2012
$775 pesos – PLUS members pay $690 pesos
Includes: Consult/Interview, pap smear, pelvic exam, colposcopy. Wonderful female GYN. Note: If you are concerned about a hormone imbalance, we recommend having the lab-work prior to the appointment. We have a special price for this.
Eye Clinic
August 8, 2012
$400 pesos – PLUS members pay $350 pesos
Vision Exam, Eye Pressure Exam (Glaucoma check), consult.
Mammogram Clinic
August 9, 2012
$920 pesos – PLUS members pay $820 pesos
Includes: Digital mammogram, ultrasound (if necessary), manual exam, review of mammogram. Please ladies, this is important!
Men's Urology Clinic
August 10, 2012
$700 pesos – PLUS members pay $650 pesos
Includes: Consult/Interview, ultrasound of kidneys, bladder and prostate, measurement of residual urine. (We recommend prior to your appointment a PSA and Urinalysis. We are offering a very discounted price of $470 pesos for these.)
Skin Clinic
August 15, 2012
$275 pesos – PLUS members pay $225 pesos
Includes: Review of your skin, from scalp to toes by an oncologist. Get those funny spots checked!
Ongoing Clinics
Colonoscopies, Endoscopies, Men's and Women's Check Ups
Our PLUS membership program has become quite popular the past couple of years. For further information, please visit HealthcareResourcesPV.com. (Prices are in pesos!)
Folks Returning in the Fall and Insurance Coverage
If you are preparing for your return in the fall/winter, we urge you to make sure that you have the proper insurance coverage. Please email me with any questions that you might have regarding this. And if you are in the area now, I am more than happy to sit down and have a chat about all of your healthcare needs. I have a new (and air conditioned!) office at Hospital Amerimed. I hope you will come by for a visit! As well, I am happy to give you a tour of this new, state-of-the-art facility.
Are you attempting to lose a few pounds? Or perhaps lower your cholesterol? Are you borderline diabetic and would like to get things under control? Please know that we work with a very knowledgeable, multilingual (and great!) registered dietician. Consider a few sessions with her and be prepared for success!
Spring Vacation in San Pancho
Spring is the perfect time of year for a Riviera Nayarit San Pancho vacation for the people that a little solitude, rest and relaxation.  The crowds have left the Riviera Nayarit for the summer months and there are only a few stragglers. Now is the time where the days are nice and warm, and you piratically have the beach to yourself. The Riviera Nayarit temperatures are around 82 during the day and into the mid 60′s in the evening. Local favorites  Restaurants like The Blue Pig BBQ and Blues and another locals favorite Ponchitos Bar (on the right as you come into town upstairs) stay open all year and as well as other shops along the aveneda like the Aire Papalotes (kite shop) and Galeria Serendipity with amazing Huichol beading, and the new Art Gallery, H. Salanova C. and Ceramics Studio, who also offers ceramic classes all summer long!
You can find rentals with a low summer rate (really nice!) with Caren Elkan at San Pancho Rentals or you may want to check out Roberto's Bungalows who have very nice and colorful bungalows, new beds and a lovely pool and garden. Owners Jane and Earl are really fun to know as well!
There are also fun tours for the next couple of weeks with Birding San Pancho, as well as fun tours like the Chica Locca Riviera Nayarit Magical Tours that go out to the Marieta Islands for fun snorkeling and kayaking and paddle boarding run all summer long.
So, if you like missing the large crowds…now is the perfect time for a Riviera Nayarit vacation! What are you waiting for??
A New Birding Conservatory in San Pancho
http://www.allsanpancho.com/springtime-in-san-pancho-mexico
Other San Pancho News
For the folks that live in San Pancho, or anyone staying long enough to recieve mail, there is a new post office in San Pancho! Yippeee!
It is located at the side of Entreamigos Community Center (on the left as you come into San Pancho) in a smaller building by the driveway. At this office you can pick up your bills and bank statements and other mail.
You can also send mail out as well. The cost of stamps are:
Mexico    7 Pesos
US        14 Pesos
Europe 22 Pesos
The new San Pancho Post Office hours are Monday, Tuesday, Wednesday and Fridays
from 2:00pm – 5:00pm
and for more information you can text (only text please) postal agent Joaquina Avila G.,  cell : 322-205-5033
or you may e-mail at : joaquinaavila@yahoo.com.mx
Advertising with AllSanPancho.com and RivieraNayaritFun.com
Hola mi Amigos y Amigas! Cat Morgan here bringing in the New Energy of Love and Light for a positive and new way to advertise your business. There are many avenues to find you with RivieraNayaritFun and the Town Web Sites making easy for folks to find your business, like:

 Business Photo Galleries on RivieraNayaritFun.com
Town Photo Galleries RivieraNayaritFun.com
Links to your Websites and Facebook pages on your Advertising Page
An Endless amount of room on your advertising page that you can edit anytime you wish
Linking in weekly and bi-weekly articles on RivieraNayaritFun.com and the Town Web Sites
Keyword Rich Articles about your business Promoting YOUR BUSINESS!
(that gets on the first page of Google!)
Linking to your photos in Articles
Win-Win energy promoting both of our companies together in the positive New Energy!

There are some really great spring specials right now, and RivieraNayaritFun.com (the mother ship for information and relocation on the Riviera Nayarit) and AllSanPancho.com are receiving a lot of traffic even tho we are a new advertising company!  (237 visits so far this month of April sith 81% of those new people), making it easy to find your listing! and on RivieraNayaritFun there as been 1899 visits this month so far with 84.7 new traffic.
We also offer every business on the Riviera Nayarit a free for life internet business listing, (no purchase necessary) and we are on the first page of Google for San Pancho organically, and San Pancho Rentals,  as well as paid advertising in the winter months. Its super easy to fill out! Two short forms and confirm on your email!

And, I am happy to come by and take photos of your business for the Town photo gallery or you can send me some as well.
Call me (Cat Morgan) today at 332-728-6897 or e-mail me at :Cat@RivieraNayaritFun.com  to find out how you can promote your business with RivieraNayaritFun.com and AllSanPancho.com, or any of my other 5 town websites on the Riviera Nayarit! I look forward very much to meeting you!
Many Blessings of Abundance!
Cat
Come and enjoy a Riviera Nayarit  vacation this Spring in San Pancho Mexico!
Whale Watching and Snorkeling Tours
I was visiting Los Compadres Resort on the hill overlooking La Peñita de Jaltemba, I was looking out at the Jaltemba Bay and  I saw a couple whales breaching the water out by the island. I decided it was time to get out on a boat and see them up close. I went out with Gil on the Chica Loca from Riviera Nayarit Adventures in Sayulita.  They launch their trimaran from the marina in La Cruz.
Dual whale tales seen in Banderas Bay during full moon Feb 2012
A Mexico vacation is considered as the top tourist destination in Latin America and currently the tenth place in the world. Areas such as the Riviera Nayarit are teeming with historical sites, rich culture, and exciting attractions that many people, even the locals, have come to enjoy and love. Although this country is renowned for its iconic monuments and dazzling white beaches, there is one thing that you must try especially when you happen to visit this colorful nation between the months of January and March. It is called whale watching.
Whale watching has become a celebrated tourist activity especially in the Mexico Pacific where these big cetacean mammals usually show themselves off shore, proudly spouting water from the blowhole above their heads while flapping their huge tails against the sea surface. Not too many people are fortunate enough to see real live whales in person and witnessing this kind of whale action can certainly lead you breathless and in awe.
Whale watching season usually starts on November and ends in April. However, January and February are the best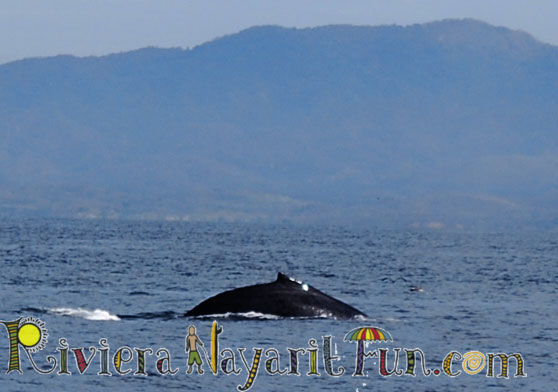 months for you to get a glimpse of these species (particularly humpbacks and gray whales) in Banderas Bay and Matanchen Bay. If you want to have a more memorable experience by closely interacting with these gentle giants, then you might want to try whale watching in Jaltemba Bay. In here you will find shallow waters where gray mother whales take care of their calves. You can touch and see them eye-to-eye, thus giving you an amazing experience that you will never forget.
There are daily whale watching tours and overnight excursions that are readily available for you to choose from during these months. These tourist companies will not give you a guarantee for whale sightings, but you will have better chances (usually nine out of ten tours) when you visit the Mexico Pacific at the end of January to April.
There are some reminders that you need to watch out for as soon as you have decided to try whale watching at the sunny beaches of Mexico. There are several types of whale watching tours that is suitable to all kinds of tourists. If you are doing this with your small kids, you need to choose a day tour where you would spend less time in the water and more time on the ground. If you are a whale specialist, then interacting with the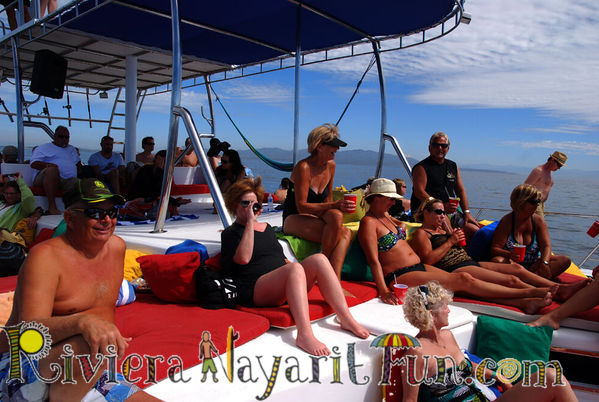 whales will be more suitable for you so you might want to select the kind of tour that enables you to get near them. Chica Locca Magical Tours out of Sayulita has a wonderful Tri-Hull Cateraman with soft comfortable pillows and pads that is great for adults and children alike. And,  they can get close to the whales! They include transportation, breakfast, lunch and all you can drink,  which makes for a great all inclusive day where you don't need to worry about a thing!  Whale watching, snorkeling or a sunset cruise…so, what  are you waiting for? After all, you are on a Mexico vacation!
They also are great for private parties, and special celebrations as well.