Community News in San Pancho Mexico
Welcome to the San Pancho community news for San Pancho Mexico, located on he Amazing Riviera Nayarit! This is a cool mural upstairs at the Darjeeling Tea Room in town. Do you think that he is looking at you? Its the magic of artwork! They also have really great pizza too!
The days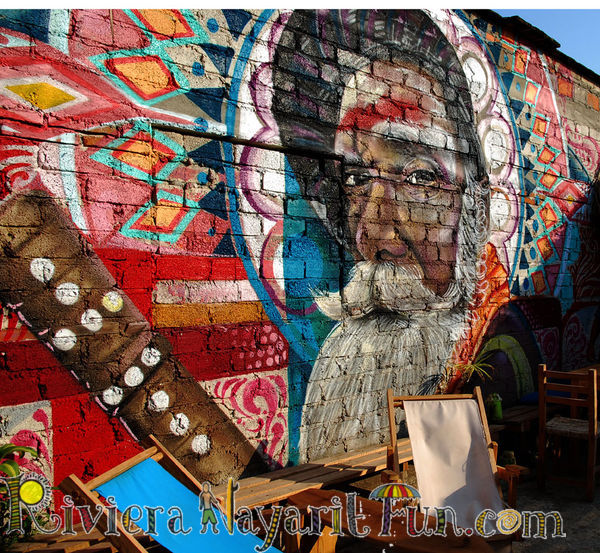 have been extremely hot, and the nights as well! September is one of he hottest months of the year here on the Riviera Nayarit in Mexico. As I walked in town yesterday, there is a lot of remodeling going on, and folks are getting ready for the winter season.
San Pancho Days are coming up quickly, so get ready to head to San Pancho for some fun with parades, a big festival, live music and dancing, and a rodeo!
See what our sponsors have to say and enjoy some words from Luis Morales with SPBO, as well as our new free listings withDarjeeling Tea Room, and Refugio de Sol Bungalows, and enjoy the last of the summer days! Every business and rental receives a free internet listing for life!
San Pancho also welcomes the new SPBO, (San Pancho Bird Observatory), which is based on: Conservation based in Science, Education and Community Development. Here is a note form Luis Morales who is head of the SPBO. Thanks Luis!
The SPBO
The SPBO team is working together to bring birding in San Pancho to the next level. Our goal as an organization is to advance bird conservation through science, education and community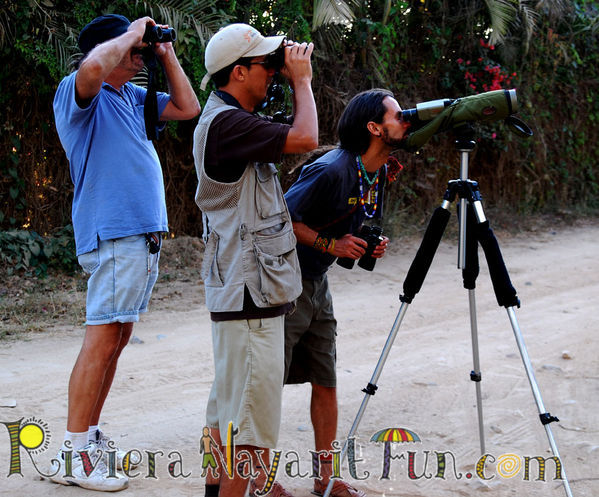 development, so in order to achieve our goals of community-based biodiversity conservation, we have planned a number of actions such as:·Providing birding tours through SPBO and no longer in the name of Birding San Pancho which was a commercial venture.
For the time being, the website www.birdingsanpancho.com will remain online to provide users with information regarding tours but eventually this information will migrate to the non-profit SPBO´s website www.birdingsanpancho.org
Weekly bilingual bird-id lectures will be offered; such lectures will be oriented both to visitors and locals. Lectures will be arranged by bird family or groups of birds by habitat so that more people in our community are able to identify birds by eye and ear! These will be FUN!
Volunteers at different locations will be enrolled in a constant effort bird-monitoring program which will allow us to estimate bird richness and abundance, as well as the vegetation composition; this information will be crucial to inform decision makers in land management positions to promote better land use, restoration and conservation practices.
SPBO is creating informative signs at birding head trails and providing hotels and restaurants with customized brochures that feature maps to birding trails and species checklists. These will allow tourists to be aware of the incredibly rich bird diversity of San Pancho and the region, making our area a more attractive destination for birdwatchers.So, as you can see there is a lot happening and being prepared for a great 2012-2013 season!
If you want more information on these programs and are willing to support SPBO to support contact Luis Morales at birdingsanpancho@gmail.com.
San Pancho Days are Almost Here!
Its almost that time of year again, and the San Pancho Days festival starting on September 25th. The nine-day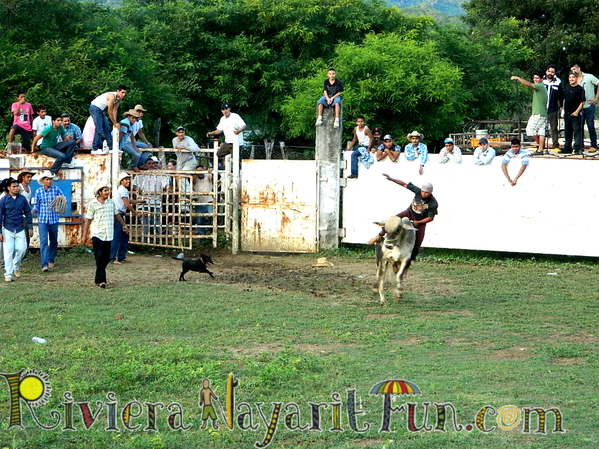 San Pancho festival honoring Saint Francis of Assisi is called Feast Day and runs from September 25th through October 4th. There will be parades, amazing costumes, great food, drinks and live music, with lots of dancing. Its a whole week of fun and celebration! Last year they also had a rodeo!
The town of San Pancho in the state of Nayarit, Mexico is actually named after San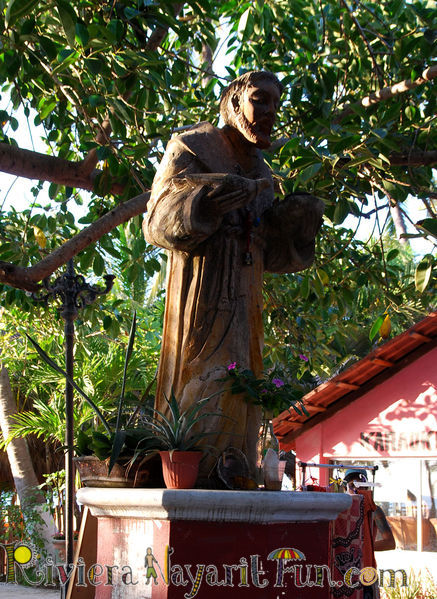 Francisco de Assisi or Saint Francis of Assisi. The San Pancho folks show respect for their natural environment by taking measures to preserve it, a passion of Saint Francis the town's patron saint and also the Saint of animals and the environment. Saint Francis viewed the creatures as his family, and emphasized mankind's role to protect and enjoy our beautiful nature and animal kingdom, which is exactly what the San Pancho full time residents, and part time residents do. A Statue is on the San Pancho beach malecon, where people honor him by placing flowers, candles, and food at his feet.
Living in Joy with Kathy Blue
The Golden Gate is Open!
Living in Joy!
We are coming into a Golden Age. The door is opening to a more perfect world than has ever been seen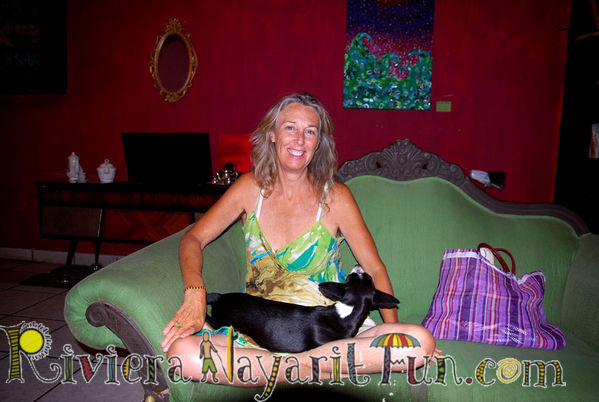 before. With the help of Access Consciousness, people can star functioning in a different way on the planet. We are the stewards of this earth, and have chosen to be interconnected with it.
When you are willing to function from a more consciousness, you begin to open the door to more healing.
Are you ready to join and become part of the global shift in consciousness and co-creator of a new world of Love, Peace, Joy and Abundance for All?
Our new healing business is called "Sana" which actually means healing! The Sana center is located on Gringo Flats. (the third street coming into town on the left side) Look for Sylvia's Folklore Boutique and turn there. Our new address is Honduras # 29, four buildings down on the left.
Its all very exciting, and we are giving her a fresh coat of paint this week!
We look forward to meeting you, and opening day should be in the beginning of November.
See everyone this fall!
All Life come to us with Ease, Joy and Glory,
Kathy Blue
Maxieventos Doris – Weddings and all Party Set-ups
People love a destination wedding. Whether you have planned your wedding or party for a year, or are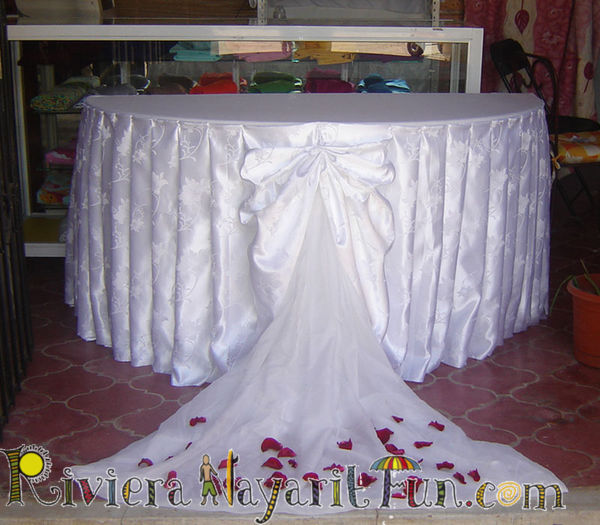 having a last minute party or destination wedding, Maxieventos Doris is professional and detail orientated, and will create the perfect environment for your special day.
Doris is an amazing wedding planner and has some terrific wedding set-ups. Whether its a beach wedding, or out in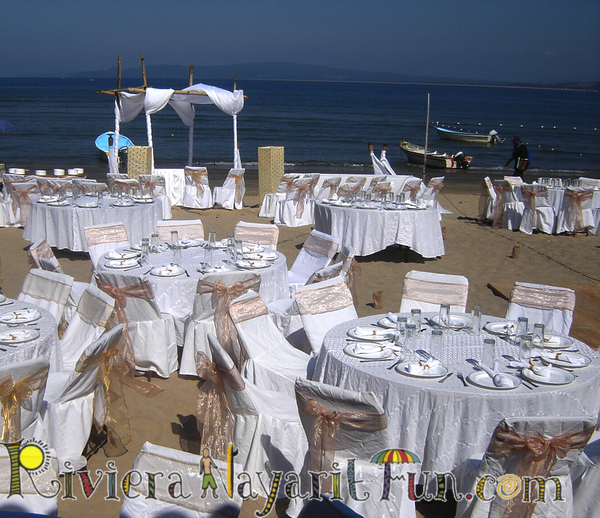 the jungle, or in a church or hotel, Doris will create what you desire for that special occasion. Doris is a native of Mexico, and knows the best places for all of your needs, along with great pricing.
Doris goes the extra length, and will sew and create what you are wanting, making your day special and unique.
Discover the difference with Maxieventos Doris.
Because "It will be your Best Party".
The Blue Pig BBQ and Blues
We are gearing up for the this season of serving up some great BBQ Ribs, chicken, pork and Blue Cheese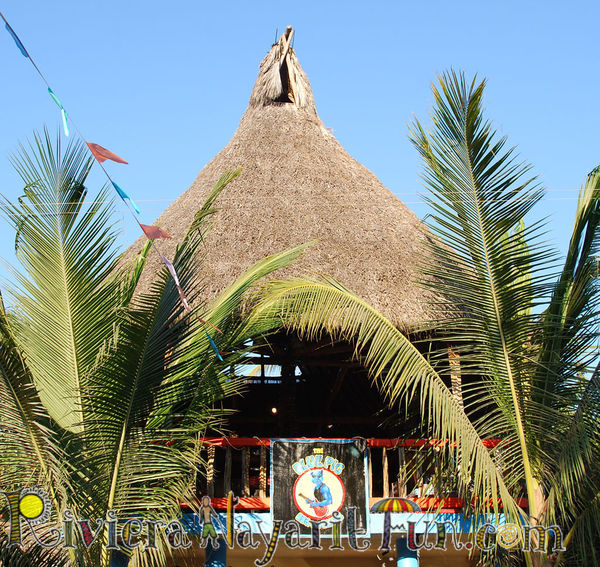 Bacon burgers, along with great blues music under the shade of our palapa. We also host banquets and party's at our place, or your choice of location.
We open again in October, which is coming up fast!
See you soon for Great BBQ and Blues in San Pancho Mexico!





 RivieraNayaritFun.com and allSanPancho.com
Many Blessings and thank you for supporting allSanPancho.com and RivieraNayaritFun community!
I truly enjoy living here all year around, supporting the folks in San Pancho, and on the Riviera Nayarit.
Please contact me for a free listing, or to become a sponsor. We welcome you, and want to support your local business or rental, every week all year long!
Blessings of Abundancia!
Cat Morgan / Owner of Riviera Nayarit Fun Regional Network,
covering the Riviera Nayarit in beautiful Mexico!