Community News Splash in San Pancho Mexico
Hola San Pancho people of the Riviera Nayarit in beautiful Mexico . Wow! It sure did rain last evening. Batten down the hatches!! It does not seem like we have had as much rain this summer season as last summer, but last night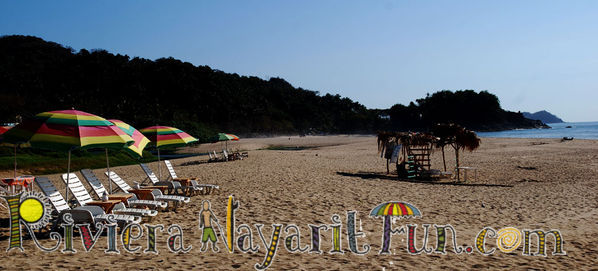 sure did make up for it! One of the things I like about living on the Riviera Nayarit, is that the next morning after a storm it is another blue-bird day! Sunny with the Mexico Blue skies.
Thanks for tuning in to allSanPancho.com.
We like to run our advertisers specials and information for you, written by our advertisers, so you can discover great deals on the things you need and like. Click on the links that lead directly to their ad pages to find out more about them. All of the photos are also linked to their business photo galleries, so click on the photos as well! Everything is always linked!

allSanPancho.com would like to welcome Tailwind Jungle Logde and Yoga Retreat Center to the site. Look for their ad coming soon! Along with more great articles from Tamara about Yoga, nutrition, health and healing.
With the RivieraNayaritFun Regional Network everything is linked! Making it easy for folks in Chacala, for example, to find your business! We also have free listings under our paid advertising sections. Check them out for more information on the things you need. Every business and rental gets a free for life listing with RivieraNayaritFun!

Thank you for supporting your local company, RivieraNayaritFun.com and the 7 town websites, like allSanPancho.com. Please see below for more details on how to become part of the RivieraNayaritFun Community! I reside on the Riviera Nayarit all year long to support your business or rental, blogging about your business on both the Riviera Nayarit Fun site and the allSanPancho website and the weekly community news splash of San Pancho, sharing the all of the Google Love with you!
Many Blessings of abundance and joy to all!
Cat Morgan
Cat@RivieraNayaritFun.com
The Bars of Access Consciousness is an energetic healing tool to facilitate change in all areas of your life.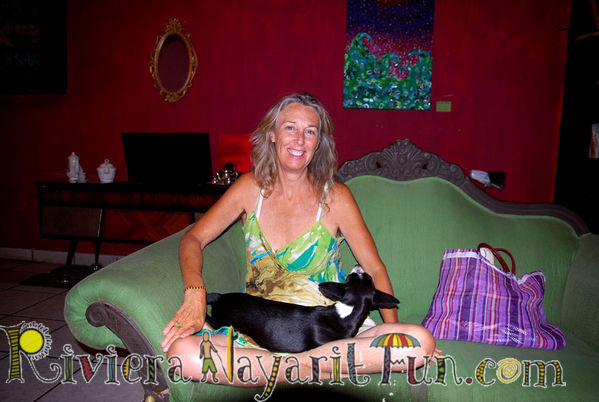 There are 32 points on the head which contain and store all thoughts, ideas, beliefs,considerations,trauma and dramas, and are stored away, connected to emotions.
When I accompany the Bars with Clearing Statements, we are able to pin-point the problem and blast it out of existence! The Clearing Statements by-pass your logical mind so it is not necessary to understand what I,m saying.
Once your emotional triggers are released, you will have more awareness and more ability to function with joy, ease and grace every day.
Write to me with any questions you may have. I am here to help! I reside in San Pancho all year, and our new San Pancho office is opening soon!
Many Blessings of Joy,
Kathleen Blue
Greg Close, the owner of the Blue Pig BBQ and Blues creates a unique BBQ Sauce from a family recipe that gets you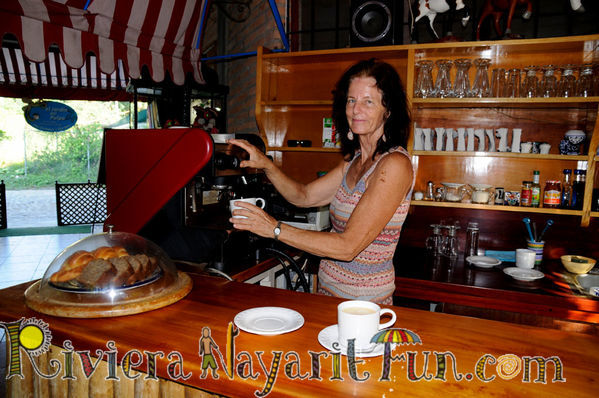 r tastes buds tingling with a rich smokey flavor that keeps you coming back for more!
With a choices like BBQ Ribs, Half Chicken plates, or if you have a big appetite, The Big Pig, or try the Delilah's Delight which is enough
for 3-4 people! Also serving a variety of sandwiches and Burgers…like the famous RazorBack Burger, which is a 1/2 pounder with cheddar and blue cheese and bacon ( oh so very delicious! ) and two sides of your choice, like carrot or potato salad or try a San Pancho Dip!
A full bar is available as well as fresh brewed coffee and teas. The Blue Pig and Blues is perfect for birthday parties and other celebrations as well as catering any event! Live music is played under a large palapa in the main dining room. They are closed for the summer season, but reopen in October. See you then!

If you would like to join our RivieraNayaritFun community websites we would love to help promote your business. We have hundreds of viewers every day, Come and join our  community with the largest Regional Network on the Riviera Nayarit. We are RivieraNayaitFun.com and our 7 town websites, like allSauultia.com or allBucerias.com., all linked, with high traffic. (eventually 12 websites! ) and of course on the first page of Google!
We post, linking to your advertising weekly, on the allSanPancho website, and the mother site RivieraNayaritFun (click on the link to see the article…search for bucerias restaurants to see it on the first page of Google!) maximizing your business potential, linking and sharing the "Google Love" with YOUR BUSINESS!
If you do not get found with us, your next year is completely FREE!
Email me for amazing summer specials. We can keep our pricing very low, as we have 7 town websites!
If you cannot advertise with us right now, ask about our payment plans that make life a little easier, and we are also open to some trading for services!

We also offer all Business and Rentals a Free for Life Internet Listing. Click on the link and fill out one form.
Muy facil!
We are growing larger every day. Everyone that signs up is part of our community. Come and join us!
Thanks for your interest, and hope to connect with you soon.

Much Love and Blessing.
Cat Morgan
Cat@RivieraNayaritFun.com