San Pancho Community Summer Fun
San Pancho, (San Francisco, Nayarit) like most of the Riviera Nayarit, slows down for the summer season. But, what this can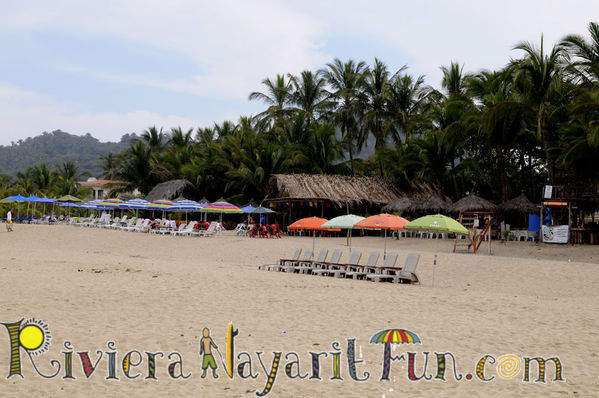 mean for you is a quiet Summer San Pancho vacation, having the beaches and beautiful estuary practically to yourself! Stretched out in a lounge chair under an umbrella. sipping on a chilly drink on the playa. and relaxing for the first day or two is the perfect way to begin your San Pancho vacation.
There are plenty of adventures and activities for when your feeling ready to go! Surfing, SUP, hikes, scuba, fishing, and tours like the Alta Vista Petroglyphs, turtle releases (I believe 2 more releases this month!) and Birding Tours are all waiting for you to participate this summer.
Imagine at the end of the day walking with your love on the beach, enjoying the amazing San Pancho sunset.
Its true, many restaurants and rentals are closed until the next "high season", but the locals fa
vorites remain open year around.
Now is the time to book for next season to be sure you have the San Pancho rental of your choice, as well as a tour or two!
Summer Rates
Most of the X-pats leave before Easter, or what is known in Mexico, Semana Santa. What this can mean for you, is that the summer rental pricing is here, making your San Pancho vacation that more affordable! The clean San Pancho beach is beautiful, and you will find a lot of wild life in the estuary and the jungles. Click on the photos and links for more fun pictures in the photo gallery, and information about the businesses and rentals in San Pancho, Nayarit.
Maria's Restaurant and Bar is open all summer long with live music on Friday evenings. Enjoy the outdoor patio and beautiful
indoor ambiance at this San Pancho restaurant local's favorite hangout.They offer a large variety off the menu serving up breakfast lunch and dinner! Whether it's a smoothie, or a cocktail from their full bar, you know it's going to be good. The food is a 'constant delicious' which is why Maria's is open almost all year.
Maria's Restaurant and Bar are open 6 days a week…they take a break on Wednesday's and are closed that day.
Discover why Maria's family owned and operated San Panc

ho restaurant is the local's favorite and stop in for a bite. It is best to make dinner reservations on Friday's due to the fantastic music played by the Mango Duo.. Alfredo and Zoe!
Ceci Horseback Riding and Vaulting San Pancho
Discover how much fun Horseback Riding and Vaulting lessons in San Pancho can be with Ceci Horseback Vaulting San Pancho at the amazing La Patrona Polo Club this summer!
These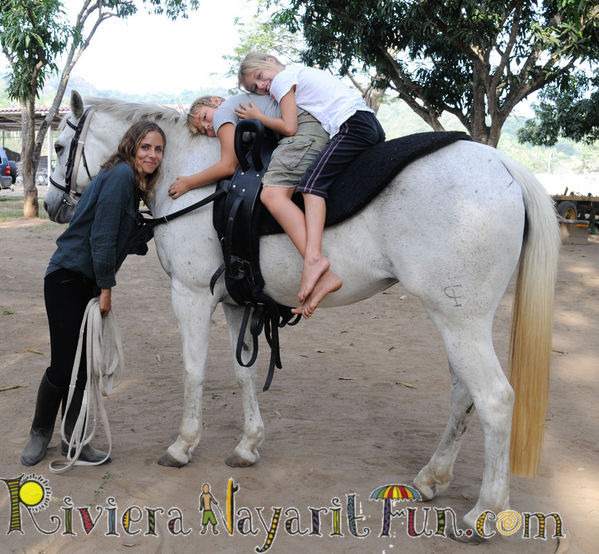 horseback riding lessons are valuable as they help children and adults with their balance, coordination and motor skills. Its also a lot of fun!
San Pancho Horseback Riding and Vaulting  lessons are conducted at the San Pancho La Patrona Polo Club, which is secure, insured and a beautiful property.
Ceci is from Guadalajara Mexico. A professional horseback riding instructor,d and Ceci has created a Pilates program for vaulting on horseback. San Pancho Horseback Vaulting lessons are a perfect way to be introduced to the world of horses for children and adults alike. Your children will be amazed with what they can do, and have fun!
Ceci and her husband Salim have two wonderful children of their own; a very beautiful family.  Discover Ceci's Horseback Vaulting San Pancho at La Patrona Polo Club today.
Entreamigos–A Non-profit Organization for children in San Pancho
Summer fun is just around the corner, and as usual, there´s a lot of cool things going on at Entreamigos, and we can´t wait
to share them with you!
We would like to give special thanks to La Patrona Polo Club and teachers Pablo and Ceci for the awesome horse riding classes! Our children love them and are getting super good at it!
We also want to recognize Gilles St. Croix and Monique Voyer for their continued support to our Circo de los Niños. This lovely and soulful project has come a long way since it began in 2011; the kids have been invited to nearby towns to perform in special events and had an amazing show here in San Pancho for children´s day.
Fun Events this Summer
And even though a lot of our friends have left Mexico, we will be receiving some very special guests from Mexico City. and Guadalajara! College students from prominent universities: Universidad Iberoamericana and ITESO, will be with us for two
months, working in some very interesting projects that will make a big difference in our beautiful town! Their interest in working with us makes us feel happy and proud, because the work that we have all done together is reaching new and different places in the country.
We also want to welcome the lovely ladies from Smile project to Entreamigos. The Camosun College Dental Program students come all the way from British Columbia to offer free clinics and service to children and families in San Pancho.
We have been receiving groups from the Tourism Dept. of Nayarit in our building every Sunday as well. Congratulations to Estibaliz for all her hard work on these tours! These efforts give a big boost to the environmental and touristic industries in San Pancho.
May Activities:
ReMade. A celebration of raw recycled materials.
May 24th, 7PM, at Entreamigos.
During the last two months Industrial Design Professor Arunas Oslapas and his wife Katherine have been working together with local women to design a new line of products for the Imaginarte gallery.  It is amazing, a few items will be for sale! 
Kindergarten Face Lift Project!
May 25th, 9AM-1PM, at the San Pancho kindergarten.
Entreamigos together with 25 volunteers from World Ventures invites everyone to join us to create a beautiful new mosaic on the front wall of the school and do some much needed painting and repair work in the bathrooms.
Great News!

Entreamigos workshop and our very own Youth Entrepreneur Program were selected to receive a $10,000 usd grant from the Left Tilt Fund! The grant is given in the spirit of empowering social equality. The small businesses that the youth are creating fit the criteria as these kids work hard  to create businesses that become one of the funding sources for their college education. The grant will enable us to include more students in the program, buy important machinery and expand the support and professional network dedicated to the development of the kids, their business and their skills.
Summer Workshops 2013!
We are planning and looking for teachers for our 2013 summer workshops! An extraordinary experience you should not miss! We also need sponsors so every kid in town can come and participate. With $50USD you can give a child the chance to enjoy these 4 weeks of learning and fun.  Please visit our website and click the paypal button to sponsor a kid. Friendly Reminder:
Entreamigos needs that great stuff you no longer use for our Recicla shop. Kitchenware, bath & bed items, clothing, jewelry, shoes, toys, etc…If it works we can use it! Your donated goods will help us collect money to fund our current programs. We will keep you posted. Have a great summer!
San Pancho Bird Observatory
Bienvenidos todos to our second  San Pancho Bird Observatory Newsletter!
This
last winter season was intensely good and productive. We had tons of great birds, amazing birder friends coming to visit again and for the first time, and some innovative projects that are helping us advance our bird conservation goals.
First of all, we want to say THANK YOU to all of our volunteers, donors, sponsors and partners; with your support we are constantly advancing our community-based bird conservation strategy.
This issue informs you of the progress and perspectives of our educational, community outreach and scientific monitoring projects.  We at SPBO hope that the information below inspires you to continue supporting and getting involved with our efforts toward bird conservation.  Enjoy your reading!

Muchas Gracias a Todos!!
We would like to thank our supporters for their donations at such an exciting time in the life of the newly created San Pancho Bird Observatory. The programs are moving ahead rapidly and simultaneously. It is with deepest appreciation that we first and foremost recognize our supporters. Their emotional and financial help has fueled our successes.
A heartfelt thank you to all of our cash donors: Amy Shumann,  Robert & Cathy Dailey; Lynda Gilman; John and Michele Gillet;
Michael Moore & Robin Temple of the Three Swallows Foundation; Ellie Rilla & Patrick Laherty; Salvatore Caruso; and Bill & Melissa Roberts and the Western Bird Banding Association.
Another heartfelt thank you goes to our supporters for their generous in-kind donations: Cathy and John Losee; Greg Homel; Mary and Enrique Morales; German Sánchez Vergara; Environment Canada; Seatle Audubon and the Klamath Bird Observatory.
And a cheer to all of the sponsors of our informative-sign project:(please read the Education and Community Outreach section below).
The San Pancho Bird Observatory operates on donations and volunteer labor. We share its admirable accomplishments in this newsletter to give our supporters an opportunity to be a part of the experience of making a difference for birds and people in the San Pancho, Nayarit region.
We appreciate donations at all times as our needs are ever changing.Donate online
San Pancho Bird ID Classes
Every Tuesday at EntreAmigos from 4:30 – 6 pm, Luis teaches a bird identification class to anyone interested. You can drop-in or  you can come every week to learn about a different bird family. Right now about 10 regular students and a few drop-ins identify field markings of a featured bird in the classroom. During the last hour, they practice their skills in the field seeking out the featured bird family with binoculars and spotting scope. Classes continue through June!.
The Birding Chacala Program.
SPBO feels lucky to join forces with the Birding Chacala group.  Volunteers from each group unite to provide guided field experience
to children in Chacala schools fostering knowledge and identification of resident and migrant bird species in their area.
The Birding Chacala group compiled educational materials and delivered them to teachers at Chacala Schools. Teachers have creatively used these materials to teach about birds, habitat and conservation in a blended theme with spelling, grammar, reading and math. Students from kindergarten to high school study about birds for a month before Luis, with the help of volunteers from SPBO, Birding Chacala and the school, conducted a field study with the students and their teachers.

Binoculars all around, these children were jubilant and engaged. A few children were gifted in spotting and locating birds by sound. They knew the jungle forest, but they learned details about it from the Birding Chacala and SPBO teams that captivated their attention and inspired their questions. A few of the older boys are perfect candidates for birding internships.
One little boy in the very large kindergarten group proudly assured us of his first-hand experience with birds…Roosters!
SPBO will return to this community to conduct more field studies and to include interested students in birding tours. Perhaps one day, a student from this class will
build a bird touring business for him or herself; perhaps another will go to college to study birds or conservation. We at SPBO are convinced this is entirely possible!
Online Bird-ID Video Series and Community Workshops.
One of the purposes of SPBO's educational programs is to create stewards and community leaders that fuel the development of long-term ecotourism projects in their communities and who can eventually participate in bird
monitoring programs that help advance habitat conservation initiatives.
SPBO´s goal for spring 2013 is to create a full series of online bird identification videos that can be delivered, together with supplementary educational materials for different ages and educational levels, though our network of bird conservation organizations and institutions in the Banderas Bay region. The videos, together with the practice acquired during field trips, will help develop bird ID skills and maximize our efficiency by reducing travel time and expenses throughout the region. We already have over 6 communities in the region requesting this workshop and we really want to delivered them!
Here´s a sample video that we recently created:
Online video for woodpecker ID
The Informative Signs Project 
The bilingual informative signs have been designed, printed and now are ready to be placed on the trails! These signs wlil inform locals and visitors about birds and birding routes they will find in the Nayarit coastal region. The signs are vinyl and mounted in wooden frames that will be placed at key public routes for birdwatching in San Pancho. Signs are planned to appear in some of the surrounding communities in the near future.
For more information on past events and to donate on their website, click here!
Thank you for your support!!