San Pancho Community Celebrations of Dia de la Muertos in Mexico
Its that time of year again, and the San Pancho community celebrations for Dia de la Muertos, or Day of the Dead,  starts
today, November 1st, and November 2nd in San Pancho on the Riviera Nayarit and all of Mexico,with elaborate altars and costumes as they celebrate and honor their deceased loved ones by celebrating life.
November first is the day that celebrates those who died as children and is called the "Day of the Little Angels" or All Saints Day, and November second is to celebrate the adults, and is also known as All Souls Day.
This 3000 year old ritual began in the month of August, which is the 9th month of the Aztec Solar Calendar, and they celebrated for the entire month by honoring the memory of their dead.
Mourning and rejoicing; sadness and and crazy parties in the cemeteries and elaborate alters are all part of this tradition. Mexican families join in reunion  for fiesta in honor of their deceased loved ones.
Mexican Afterlife Beliefs
Some Mexicans in the San Pancho community and all over the world have a different view of the afterlife. They believe
you keep your identity when you die, returning for the Dia de los Muertos. They decorate elaborate alters with different skeletons that are painted and dressed up to honor their loved ones, showing that they honored and are not forgotten, as these altars guide the spirits home. People also dress up like Catrina or skeletons as part of the celebration with amazing face makeup and costumes.
This is the reason that you see the Mexican folk art of the skeletons or calacas, which are also sold everywhere all over the Rivi
era Nayarit and Mexico. These fancy skeletons are made out of everything that you can think of!
They love to make them from chocolate and sugar for the children.
The elements are an important part in an altar, with water, earth and salt. The alters
are constructed in layers. On one side of the altar clothing from the deceased is laid out, in the center of the first level a photograph and a path to the earth, and incense and colored paper that symbolize the life and death aspects.
Skulls, candles and marigolds are placed at the altar, along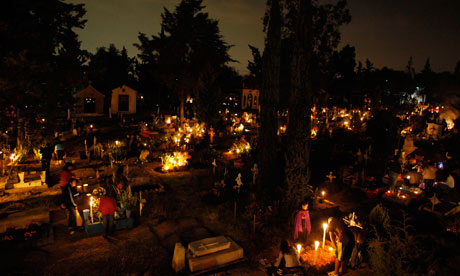 with water, bread, corn and fruit for the offering for the feast along with music and singing. There are often contests for the best altar.
Catrina, the Lady of Death
La Catrina, or also la Flaca, la Huesuda, la Pelona are a fixture
throughout
the Riviera Nayarit and all of Mexico. You will these skeletons everywhere dressed up in many different elaborate costumes.
Catrinas make beautiful collectors items, or a wonderful piece of Mexican Folk Art for your home or a terrific gift for a friend.
She is not a fancy model…this lady is la Muerte….and that is a lady of death!
Here are some events going on in San Pancho this year.
Celebrate on the Riviera Nayarit Dia de Los Muertos (Day of the  Dead) with the San Pancho Community with  Restaurant Row San Pancho, highlighting the San Pancho restaurants. This Friday, November
2nd
, the party on the playa starts at 7pm ending at  11pm, and we will be having  a sunset torch lighting, along with a Ballet Folkrico at the San Pancho Malecon, where Main street meets the sea. Dress up in a traditional Costume, Calavera or Catrina and get a free Tequila.
There are 12 participating San Pancho Restaurants, and that is where you will find some of the best BBQ around with The Blue Pig BBQ and Blues, who just opened their doors for the season with live music, a full bar and great BBQ! Along with Maria's Restaurant and Bar, who has been a long time favorite San Pancho restaurant of locals and tourists alike. Maria's Restaurant and Bar are open all year long serving breakfast, lunch and dinner.
The 12 San Pancho restaurants that are participating will have specials on some tasty food, and there will be live entertainment. Dress up and come and enjoy the live entertainment, recieve a free shot of tequila and eat delicious food to your hearts content. Hope to see you there!
DAY OF THE DEAD: ENTREAMIGOS' CELEBRATION OF LIFE
The
San Pancho Community Entreamigos has prepared activities to learn everything about the day of the dead. Join us in this unique Mexican celebration of life!
Children art workshop: Papel picado
Tuesday, October 30th, 3PM
Kids will make colorful decorations for our day of the dead ceremony and understand what they represent in the day of the dead altar.
Cooking class: Make your own pan de muertos
Wednesday, October 31st, 2PM
Learn how to make this delicious and ancestral Mexican dessert with Estibaliz at entreamigos kitchen. Children and adults are welcome!
1st Annual Entreamigos Altar Contest
Thursday, November 1st, 12PM
Make your altar with Entreamigos. Be a part of our day of the dead celebration, create your altar and share it with the community… a one in a life time experience!
*All altars will be posted on Entreamigos website and facebook page. Share it with friends and family, the altar that gets more likes will receive a special treat from Entreamigos!

Day of the dead celebration, in loving memory of Richard Lamping
Thursday, November 1st, 8PM
Entreamigos is dedicating this day of the dead celebration to the life of a beloved friend: Richard Lamping. Richard spent more than 20 years living in the community of San Pancho. He knew the name of everyone young and old, foreigner and local to San Pancho.  He was always generous of heart and laughter and could be found walking or riding his bike all over town, joining in or adding to the latest of the local chismes.   He especially loved the kids and was a wonderful friend to all!
See all the altars and share with us some pan de muerto and chocolate at Entreamigos.
Other San Pancho News (click here)
San Pancho Turtles
The San Pancho Community turtle season 2012 is still going strong, and as of right now we have recorded 1,234 nests
on San Pancho Beach and Playa Questos.  In fact, there have been more nests laid on the beaches in the past 3 months than were laid for the first nine years of the turtle program combined.  (1991-1999)   While those statistics make us turtle people really, really  happy, they also make us really really TIRED!!  Luckily we have a great group of volunteers who literally work around the clock to make sure everything runs (fairly) smoothly.  Our volunteers this year have come from Australia, Mexico, USA, Canada, Ireland, Chile, Germany  and England. These volunteers pay all their own expenses, work hard in all weather and all hours and most of the time get no recognition for their efforts-but without them the turtle program would not exist,  so if you see our volunteers around town, please show them a little love.  This year with 100% volunteer labor we expanded our box nursery to accommodate 10,000 more eggs and we expanded our beach nursery to accommodate 15,000 more eggs.  Even with those expansions, the box nursery filled to capacity twice and we were forced to use the overflow nursery on the beach.  When the overflow nursery got swamped by waves at the end of August, the box nursery was completely full and we were left with the problem of where to put all the incoming nests.  We could not leave them on the
beach because the entire beach was inundated with salt water, and oddly enough, saltwater is lethal to freshly laid turtle eggs.  We were forced to bury the nests high up on the beach, just in front of the houses at the north end.  Those nests are all hatching this week and hatching with great success.  We would like to ask anyone who walks the north end of the beach to please be on the lookout for sea turtle hatchlings making their way to the ocean. If you see a hatching on the sand please pick it up and carry it to the beginning of the moist sand at the water's edge and let it crawl into the sea on its own.
Hatchings have absolutely no natural defenses and they cannot bite you, sting you or harm you in any way, so they are safe for you to handle. The San Pancho community can call Grupo Ecologico de la Costa Verde any time night or day to report hatchings or adult turtles (or poachers) on the beach and we will send someone right out.
The landline number is 311 258 4100 and the cell number is 322 303 1576.  Thank you for your help!!!
You can follow us on Facebook at SanPanchoTurtles or on our website at www.project-tortuga.org