Enjoy the Flavors of San Pancho Restaurants in Mexico
San Pancho is a known as the cultural center of the Riviera Nayarit in Mexico, and the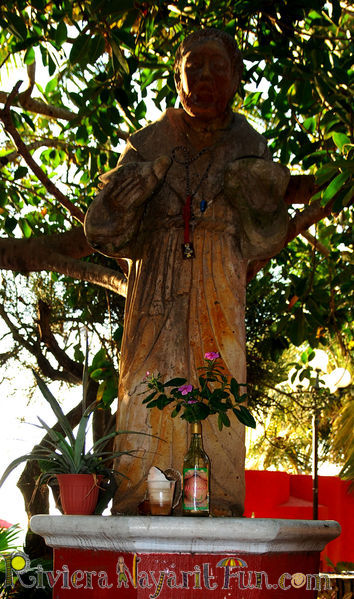 San Pancho restaurants will not disappoint you. Here is a photo of Saint Francis in the square down by the malacon. There are several choice San Pancho restaurants to choose from and here are a few that you may want to check out for yourself. So come of over to San Pancho for some music and good eats!
The Blue Pig and Blues
The Blue Pig and Blues serves up some great BBQ Ribs, Pulled Pork and BBQ Chicken. They have special sides of potato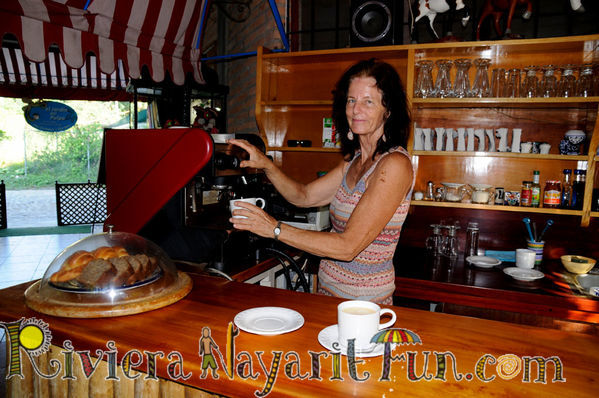 salad carrot salad, which is absolutely delicious. The BBQ sauce is home made, and it is a special family recipe. Their menu also includes wonderful shrimp dishes and more! They also have live blues music every Friday and
Saturday.
Below The Blue Pig and Blues restaurant is Pam Parsons Art Gallery. She has her own style that is a must see! Pam also will take personal requests for painting your desired painting. Pam created the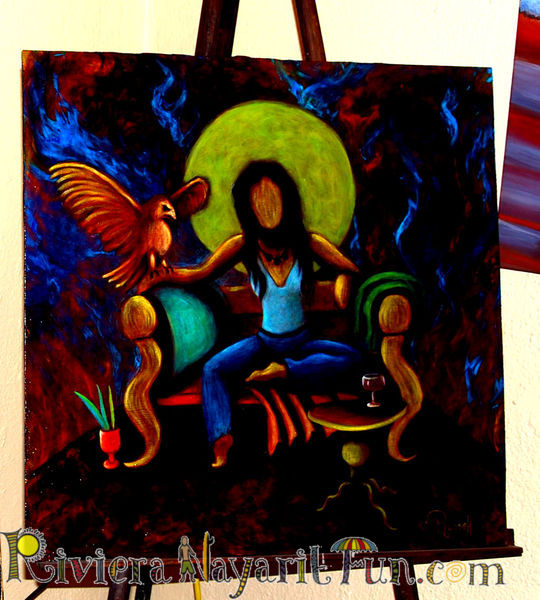 Blue Pig design logo, and they also sell t-shirts as well as art and some jewelry.  Come and enjoy the original BBQ delights and the blues music of the The Blue Pig and Blues San Pancho restaurant.
This painting by Pam is very interesting as she has no face…so it could be anyone…even you!
Cafe' Arte Restaurant & Wine Bar
Cafe Arte San Pancho Restaurant is a wonderful bistro that includes a full bar and nice wine selection as well as a coffee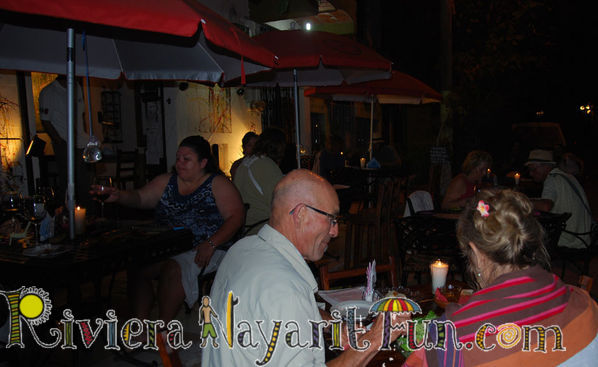 house. Cafe' Arte is a very comfortable place to come and eat and drink to your hearts content. A family owned and operated restaurant, they are open for breakfast lunch and dinner, seven days a week, all year long! Chef Humberto and Chef Mark create delicious foods made with care.
Breakfast starts at 8:00am and they serve Breakfast Sandwiches, Omelets, Huevos Rancheros, New York Steak and Eggs, and sometimes you just want a big stack of Pancakes with a cup of fresh coffee or cappuccino.
The "Afternoon Delights" also have a wide variety of Chicken Pesto, Argentine Sausage Paganini, Grilled Cheese Burgers & Veggies, Mega Shrimp Tacos, Quesadillas, personal pizzas and more!
A large selection of Appetizers and Tapas, Caesar Salads and special vegetarian soup are just the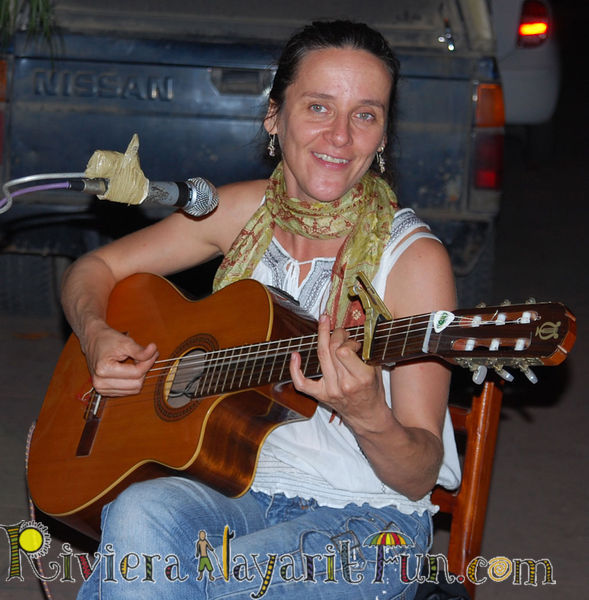 beginning!
And for the dinner menu come on in and try their Arrachera, Grilled Shrimp, Beer Battered Sea Bass or Cod as well as a good selection of fresh Homemade Pastas.
They bake their bread daily and also sell loaves of bread, organic garlic and mango honey, and also make fresh tapas for special occasions and events such as birthday parties and any event you can create!
Cafe Arte' also has live Jazz bands, as well as on Fridays evenings the "Nights of Argentina" with traditional Argentine BBQ and Argentine Folklore Music that starts at 7:30 pm.
Galeria Estudio H. Salanova C. is a new extension of Cafe' Arte, which is located next door and Humberto Salanova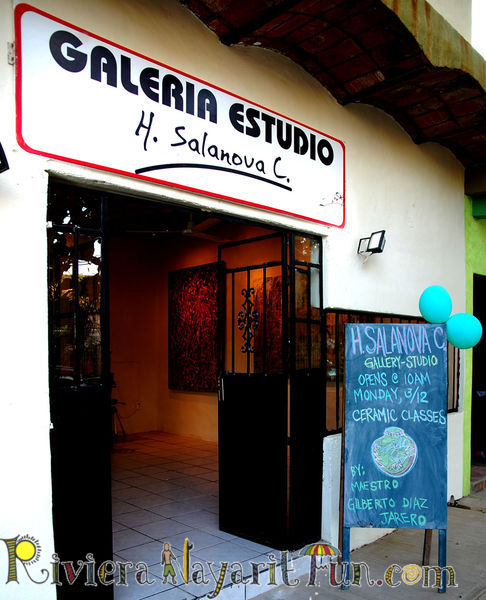 displays his art selection along with other artists of the Riviera Nayarit.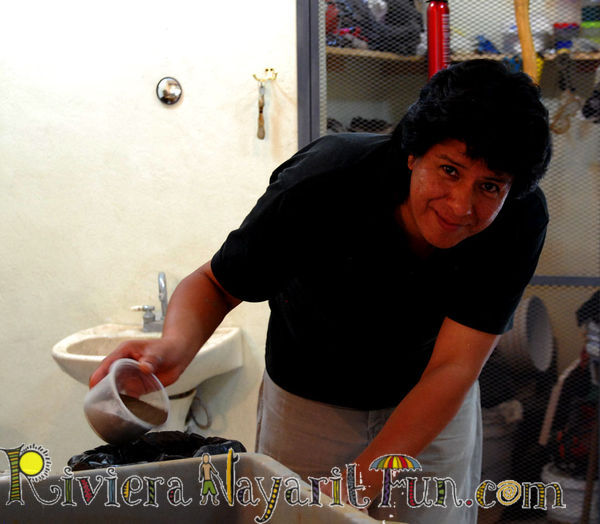 Humbertos art is known world wide and is a must see! The new shop is also a pottery shop where you can come and take classes and learn how to make amazing ceramics with Maestro Gilberto Diaz Jarero, who teaches his own unique ceramic styles. He as been teaching ceramic classes for over 15 years in Mexico. Come on by and check out the availability and sign up for a class!
Zydeco's
Zydeco's is the newest San Pancho restaurant, and Zydeco's is all about Cajan food! There hours are Thursday, Friday and Saturday from 5:00 to 9:00 and Sunday from 10:00 to 2:00pm.


Every friday starting at 6:00 pm shops and art galleries open their doors and serve wine and appetizers along the main street in San Pancho. Come and enjoy San Pancho Mexico.
Come to beautiful San Pancho for breakfast, lunch or dinner, and enjoy the cultural art and galleries on the Riviera Nayarit in Mexico.