Spring Vacation in San Pancho
Spring is the perfect time of year for a Riviera Nayarit San Pancho vacation for the people that a little solitude, rest and relaxation.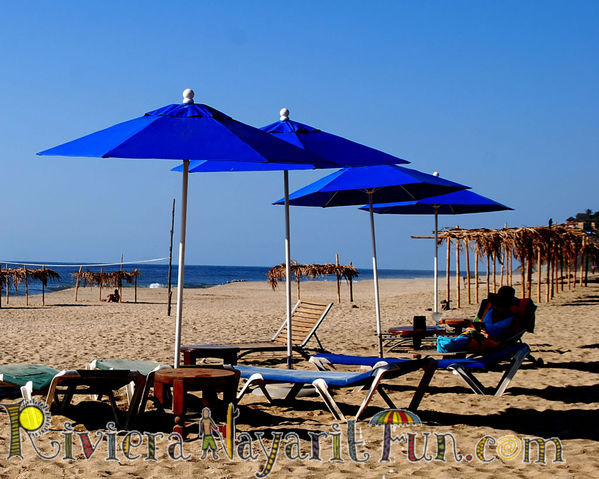 The crowds have left the Riviera Nayarit for the summer months and there are only a few stragglers. Now is the time where the days are nice and warm, and you piratically have the beach to yourself. The Riviera Nayarit temperatures are around 82 during the day and into the mid 60′s in the evening. Local favorites  Restaurants like The Blue Pig BBQ and Blues and another locals favorite Ponchitos Bar (on the right as you come into town upstairs) stay open all year and as well as other shops along the aveneda like the Aire Papalotes (kite shop) and Galeria Serendipity with amazing Huichol beading, and the new Art Gallery, H. Salanova C. and Ceramics Studio, who also offers ceramic classes all summer long!
You can find rentals with a low summer rate (really nice!) with Caren Elkan at San Pancho Rentals or you may want to check out Roberto's Bungalows
who have very nice and colorful bungalows, new beds and a lovely pool and garden. Owners Jane and Earl are really fun to know as well!
There are also fun tours for the next couple of weeks with Birding San Pancho, as well as fun tours like the Chica Locca Riviera Nayarit Magical Tours that go out to the Marieta Islands for fun snorkeling and kayaking and paddle boarding run all summer long.
So, if you like missing the large crowds…now is the perfect time for a Riviera Nayarit vacation! What are you waiting for??
A New Birding Conservatory in San Pancho
I went birdwatching for the first time last Friday with Founder Luis Morales and apprentice  Javier Flores from Birding San Pancho,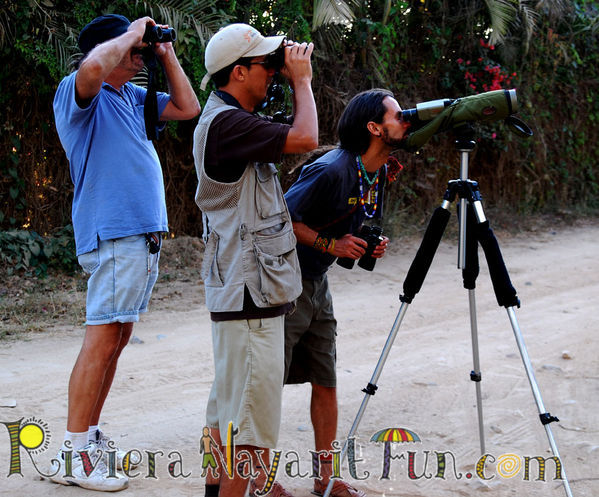 and what a wonderful experience. It was so much fun to see the different kinds of birds through the large binocular, and their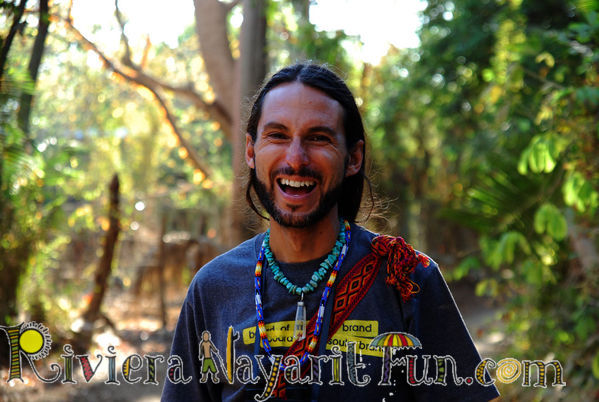 knowledge is endless! From the history of San Pancho to the endless information on every bird and animal made the trip fun and informative. Bird watching is for everyone! and the Birding San Pancho team make it very special. There is only one other bird conservatory in Mexico, and I am very excited for Luis and the team as they create the second bird conservatory in San Pancho! Here is more information about the conservatory, and I hope that you can support this important development for this community, as it will bring bird lovers to our lovely San Pancho Mexico. Click here to see more photos of our trip!
San Pancho Bird Observatory
Our team of educators, naturalists and scientists is pleased to present you with an exciting, long-term initiative that we are developing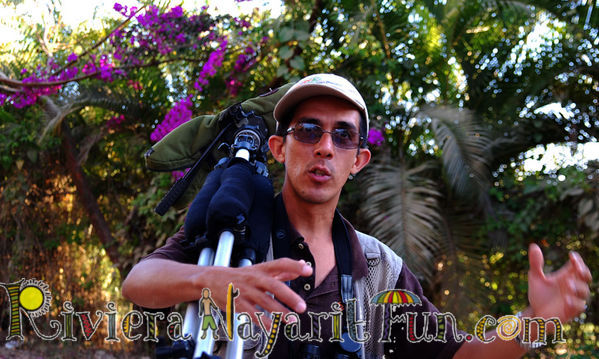 for San Pancho and nearby communities. This initiative is called the San Pancho Bird Observatory (SPBO) (click on link to watch a video that describes some of the background, goals and supporters of this project).
As you can see in this video, there is a continental effort focused on meeting the challenge of conserving migratory and tropical bird species and their habitats. Success will take many people working together: We all share the birds and also the responsibility to conserve them. What a great opportunity birds give us: the chance of working together for a greater goal beyond ourselves!
How is SPBO approaching bird conservation?
For our first year of operation we are planning the following actions and programs:
1.       Training our staff for advanced bird-monitoring techniques and environmental education.
2.       Creating educational materials oriented both for locals and visitors that will help increase appreciation of the immeasurable values of bird diversity in the area.
3.       Conducting environmental education programs for children and adults in the central and southern Nayarit Riviera communities.
4.       Promoting and supporting the creation of new ecotourism projects and training of local birding-tour guides.
5.       The implementation of standardized monitoring programs (both for tropical and migratory birds) in the region supported by volunteer birders, both locals and visitors.
What is the organizational status of SPBO?
2011 was a year of "Organizational Development." We formed our Board of Directors that now includes bird educators, scientists, professional field guides and naturalists.
SPBO is in the process of applying for Mexican non-profit status.
SPBO has gathered the interest and commitment of advisors from other bird observatories and bird conservation initiatives in Mexico, the US and Canada.
SPBO has created partnerships with public institutions, private companies and non-governmental organizations at the local, regional, national and international levels in order to collaborate in actions that lead to bird conservation.
AND, SPBO has received its first international matching grant of $2750 USD for a Bird-Banding Training Internship with Klamath Bird Observatory Ashland, Oregon from May through mid-August, this year, 2012!
 What do we need from you?
All of this great work to make a difference for birds and their habitats needs your economic support.  If you are willing to contribute to this initiative you can donate by:
Sending a tax-deductible donation in the US-based Klamath Bird Observatory by clicking here.
Important note: In either case, specify in the Designation or Subject field repectively, "SPBO support" with your donation so that we can keep track of contributions more easily.
What benefits do you receive by donating to SPBO?
You will be supporting a grassroots organization dedicated to greater understanding, appreciation and conservation of our shared migratory and tropical birds.
By donating any amount you will receive our SPBO Newsletter.
You will receive notification of SPBO Bird Walks, Programs, and Events
SPBO programs and activities are offered to SPBO supporters at a discount.
Please keep in mind that every dollar donated to SPBO can be used to leverage additional funds through challenge grants.
Thank you for the support and commitment in helping us save our shared birds!
Feel  free to let us know if you have any questions or comments (by clicking on our names on the links below), we will be glad to assist you.
Sincerely,
Other San Pancho News
For the floks that live in San Pancho, or anyone staying long enough to recieve mail, there is a new post office in San Pancho! Yippeee!
It is located at the side of Entreamigos Community Center (on the left as you come into San Pancho) in a smaller building by the driveway. At this office you can pick up your bills and bank statements and other mail.
You can also send mail out as well. The cost of stamps are:
Mexico    7 Pesos
US        14 Pesos
Europe 22 Pesos
The new San Pancho Post Office hours are Monday, Tuesday, Wednesday and Fridays
from 2:00pm – 5:00pm
and for more information you can text (only text please) postal agent Joaquina Avila G.,  cell : 322-205-5033
or you may e-mail at : joaquinaavila@yahoo.com.mx

Advertising with AllSanPancho.com and RivieraNayaritFun.com
Hola mi Amigos y Amigas!
Cat Morgan
here bringing in the New Energy of Love and Light for a positive and new way to advertise your business, as I am now moving into sole ownership of RivieraNayaritFun and all of the town websites. 

There are many avenues to find you with RivieraNayaritFun and the Town Web Sites like AllSanPancho.com making easy for folks to find your business, like:

Business Photo Galleries on RivieraNayaritFun.com
Town Photo Galleries RivieraNayaritFun.com
Links to your Websites and Facebook pages on your Advertising Page
An Endless amount of room on your advertising page that you can edit anytime you wish
Linking in weekly and bi-weekly articles on RivieraNayaritFun.com and the Town Web Sites
Keyword Rich Articles about your business Promoting YOUR BUSINESS!
(that gets on the first page of Google!)
Linking to your photos in Articles
Win-Win energy promoting both of our companies together in the Positive New Energy!

There are some really great spring specials right now, and RivieraNayaritFun.com (the mother ship for information and relocation on the Riviera Nayarit) and AllSanPancho.com are receiving a lot of traffic even tho we are a new advertising company!  (237 visits so far this month of April sith 81% of those new people), making it easy to find your listing! and on RivieraNayaritFun there as been 1899 visits this month so far with 84.7 new traffic.

So, that's TWO sites for twice the traffic, as well as the tagged photos!!
I  also offer every business on the Riviera Nayarit a free for life internet business listing, (no purchase necessary) and we are on the first page of Google for San Pancho organically, and San Pancho Rentals,  as well as paid advertising in the winter months. Its super easy to fill out! Two short forms and confirm on your email!

And, I am happy to come by and take photos of your business for the Town photo gallery or you can send me some as well.
Call me (Cat Morgan) today at 332-728-6897 or e-mail me at :Cat@RivieraNayaritFun.com  to find out how you can promote your business with RivieraNayaritFun.com and AllSanPancho.com, or any of my other 5 town websites on the Riviera Nayarit!
I am also currently looking for a town blogger and sales staff.
If you have any questions or concerns about this business please contact me at Cat@RivieraNayaritFun.com.
I look forward very much to meeting you!
Many Blessings of Abundance!
In Truth and Light,
Cat
Come and enjoy a Riviera Nayarit  vacation this Spring in San Pancho Mexico!