Summer Health from San Pancho Mexico
Summer has arrived in San Pancho Mexico, and the Riviera Nayarit is a great place for a summer vacation due to the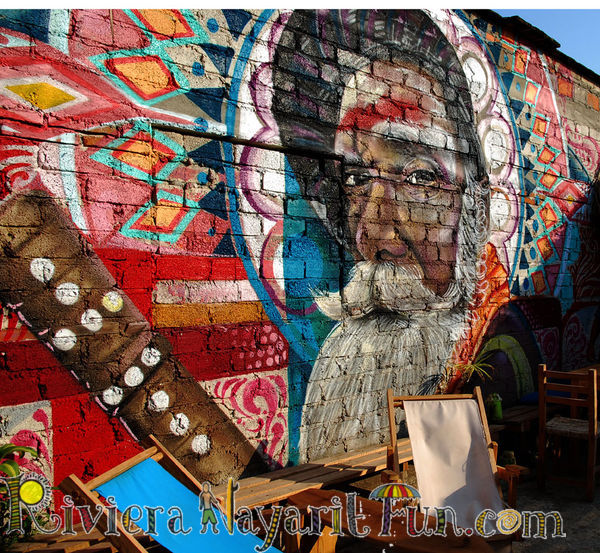 great ocean breezes, late sunsets making for a lovely sunset dinner ambiance, soft warm evenings with summer rains that cool and clean everything down, as well as amazing discounted rental rates, like at Hotel Cielo Rojo and the local San Pancho restaurant specials, like at Darjeeling Tea Room, who also has live music with local musician Geno on Wednesdays.  San Pancho is a very quiet, small town during the summer, which makes it the prefect location for a summer vacation, getting to know the locals and enjoying the beach and the wildlife in the Estuary as you practically have it all to yourself!
Summer does bring a lot of rain, mostly in the late afternoon and evenings. Be sure to take an umbrella with you for that time of the day, and also carry a baggie for your phone and money so they are sure to stay dry…because it can really be quite the down pour! I think its fun sometimes to be out in the rain…enjoying that part of nature, getting wet, laughing and having fun. It can also be quite romantic! Another thing to watch for is the mosquitoes. They come out mostly around sunset and for about one hour after….so keep your bug juice handy!
Jungle Girl Health with Tamara Jacobi of Tailwind Jungle Lodge in San Pancho
Summer is a great time to do a cleanse, re-group, lose some weight and come back into balance on
all levels.  Tamara Jacobi manages the Tailwind Jungle Lodge and Yoga Retreat Center in the winter months, and they close the doors during the summer due to heavy rains in the jungle. Tamara is a Nutrition Coach and has some great suggestions and summer courses and counseling that help you to listen to your body's cravings, what they may mean and how to let go of those "crazy food cravings".  Just yesterday I was craving meat in the evening and was wondering why. I ended up having a salad for dinner however! I also tend to crave something sweet in the late evenings.  I received her email today….I do so love synchronicity!  Here is more from Tamara in her own words on these craving issues. Thanks Tamara!
How Do I Start Listening To My Body?  
You've probably been told that you need to listen to your body, but how do you actually begin deciphering what it's saying? There is a lot going on inside your body that is somewhat invisible. Blood is flowing through your veins, your stomach is digesting your food, your brain is creating thoughts. You are a walking miracle!
Lucky for you, even though your body is extraordinarily complex, it does have subtle ways of letting you know when things might be out of balance. Your body is always whispering to you, sending your subtle, yet powerful messages about what you need to do to take care of yourself.  To get started, let's shed some light on CRAZY FOOD CRAVINGS!
Got Crazy Cravings?
From day to day, many of us have cravings for a range of different foods.  You may or may not be aware of your cravings. What foods are you craving lately? Your food cravings are one of your body's most powerful messaging systems. Sugar cravings, salt cravings, alcohol cravings, coffee cravings, cravings for red meat and more. Different cravings mean different things and can potentially indicate nutritional or emotional imbalances.   We all have cravings so why not deconstruct them and figure out what they're saying?
For the next 3 days, why not keep track of your food cravings?
Ask yourself this series of questions: 
1)When are my cravings the strongest? Mid afternoon? After dinner?
2) What do I crave? Sweet, salty, caffeine, alcohol, cold, creamy, crunchy?
3) What might be causing my cravings?
 Food cravings are fascinating! Let's go deeper with this and really start listening to your unique body.
Be sure to contact me for your Nutritional Epiphany Session  and check out my upcoming
30 Day Nourishment Challenge
What are the Best Pre-Workout Foods?
Do you want to feel great during your workout, set your body up for losing those pesky pounds and enjoy high energy throughout the day? If so, you might want to start paying some attention to what you're eating before you head out on a run, bike, to the gym, etc. Leaving home with an empty fuel tank isn't going to get you very far!
Find out  some great tips on what to eat (and what to avoid) before your workouts and adventures.
Also, get ready to. . .  Give every cell in your body a blast of nourishment
Join me for my upcoming 30 day nourishment challenge.
Starts July 25th.    

This is your last chance to save $45!  
Let's get the healthy inspiration flowing!
Que Bueno!  These are great tips and classes that can help you on your healing path, staying balanced and promote your health on a daily basis. Sometimes a few small turns in the wheel is all you need!
Thanks again Tamara for this amazing information and  guidance!